This past spring I rediscovered sewing, much to my surprise. I was spending a ridiculous amount of time on the computer between my day job and editing my novel, so perhaps my subconscious came up with sewing as a way to add a bit more balance to my life.
I decided sewing a dress would be my 'reward' for sending my manuscript off to my editor. This was a good plan in concept, but after sewing one of the sleeves on inside-out for the third time in a row it became clear that I needed to brush up my rusty sewing skills with some simpler projects.
One of these projects was a pair of shorts: view C from New Look 6354. I love seersucker, I needed some new shorts, and it was a super easy pattern. I only sewed something inside out once. Yay!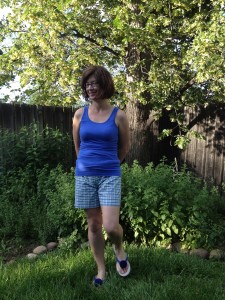 The pattern says "easy 2 hour" and that's probably about right, although I did everything in bits and pieces so I have no idea how long it really took.
The waistband uses 2-inch thick elastic, which I initially found alarming, but it turned out to look just fine.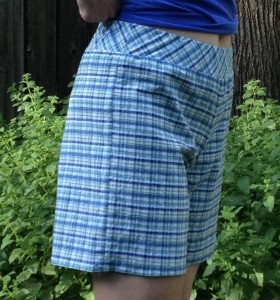 I did, of course, completely forget to put in the buttonholes that are supposed to contain a piece of ribbon for the drawstring, but that turned out to be serendipitous because on my next project I discovered that my buttonhole attachment was broken.  And with all that elastic, the ribbon is merely for decoration anyway.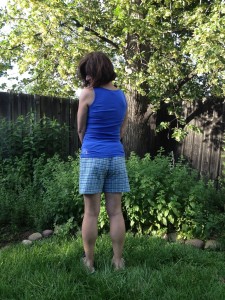 I turned up the hem a smidgen after these photos were taken because the fabric is fiercely determined to unravel and I didn't want any bit of it exposed.
The next time I make this view I might shorten the length a bit.  And maybe I'll remember the buttonholes.  Maybe.