A month or two ago I took a look through my fabric stash and found this festive Halloween print.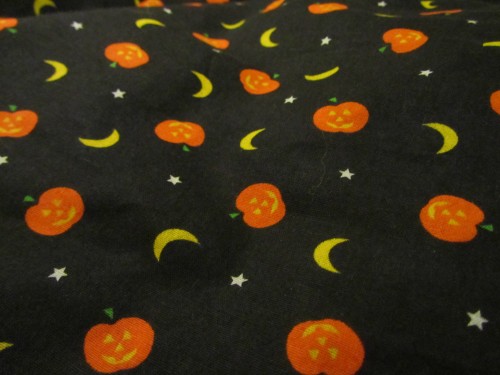 I used it for a craft project almost 20 years ago, and had about a yard and a half left. There was clearly no other option but to make a skirt. So I did! I wore it to work today.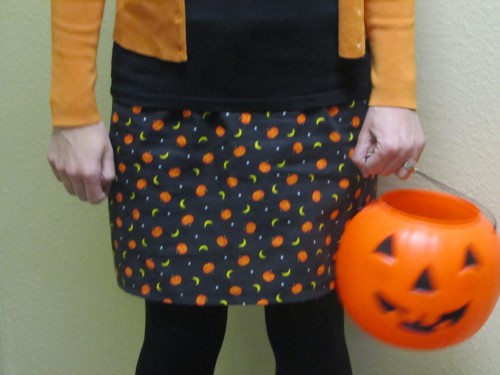 The pumpkin/moon pattern is cute, but the texture of the fabric isn't all that enjoyable – it's a cotton that's just a tiny bit too stiff to be really pleasant. Because of the texture, and the fact that I was working on numerous other sewing projects that were much more demanding, I chose trusty old New Look 6354 because I knew I could whip the skirt out in no time. And…voilà!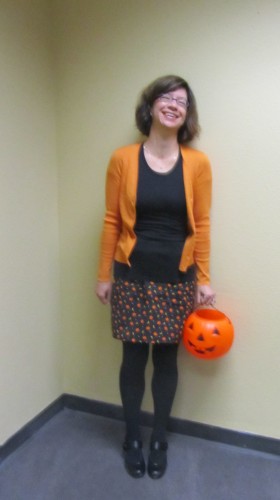 I look extra goofy in that shot because both my photographer and I had spent the last few hours at the office eating far too much candy. She finally had to put the camera on a table because she was too sugared up to hold it still. But we were both very happy, if a bit less productive than usual.
Because I was squeezing this skirt for Halloween I wasn't measuring carefully. I ended up making the elastic waistband too loose; it just kind of sits in a lump at my waist, and rides up when I sit down. I should probably take the elastic in about 2 inches. The fabric is just a tad too stiff for this pattern, so the skirt bunched up in front every time I walked more than a few steps. A slip might have helped, although I suspect something else would have gone awry. But in spite of the shoddiness of my handiwork, it was a lot of fun to wear. I've got a ridiculous amount of leftover Christmas fabric, so another holiday skirt might pop up soon…