I've been pondering aprons since signing up for the Did you make that? Apronalong, and the question I kept coming back to was: why on earth would anyone ever bother with a half apron?
A week or so I ago finally realized the reason: pockets!!!
Obviously you can put pockets on anything, so while I've been strangely anti-pocket this year and didn't put any on the apron I made in August (in spite of the fact that they would have provided an opportunity to use even more rick-rack), I do actually like pockets. Thanks to my epiphany, I now have a cute half apron complete with pockets!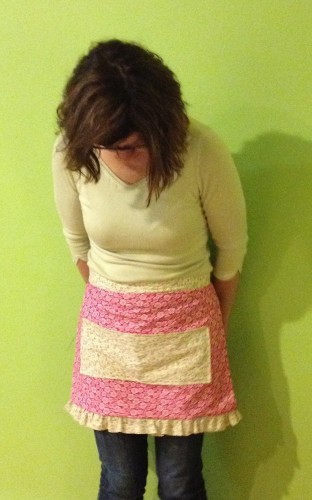 It's a bit hard to tell from this photo, but there are actually two pockets on this apron. I sewed a seam down the middle to split the one wide pocket in half.
I found this pattern from a list of links to free apron patterns that SachitaBean posted on Karen's blog.
The pattern is pretty straightforward, although if I make it again I will sew both sides to the ruffle at once. That might be a bad idea, so if you try this pattern make sure to use your own judgment. The apron ties seem a little long, but since I've only made one other apron I could be totally off base on this. I'm making another half apron so I'll compare the ties when that one is done.
One of the best things about this pattern was that it gave me an excuse to use two sewing machines at once on the same pattern!
I generally have both set up for different projects, but on this one I used both yellow and pink thread, so it was perfect for the duo. So there! I say to my friends who've questioned my having two. I'm not answering to anyone who questions my having four…that's a different topic entirely. And no, I have not even turned on the Rocketeers yet…they're just so pretty that I can't bring myself to actually use them.
Here's a fuzzy picture of the back: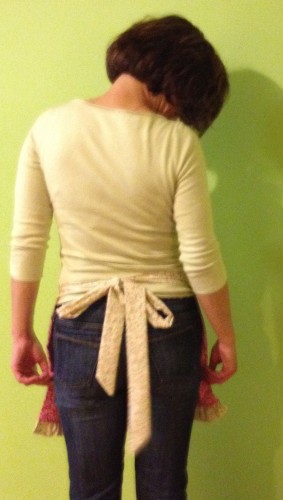 And not only does this apron have pockets, it has pockets on both sides because it's reversible!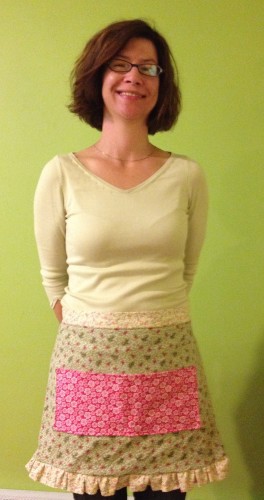 I wasn't sure how well that would work. I was a bit concerned that the inside pocket would make the apron too thick and maybe bunch up, but it turned out to lie quite nicely.
I'm making at least one more apron for the apronalong – the one in progress is from a 1960s pattern. And, of course, it has pockets!