I've been wanting to try out Butterick 9578 for a while, and the Did you make that? Apronalong gave me an excellent reason to make yet another apron in spite of the fact that I rarely cook.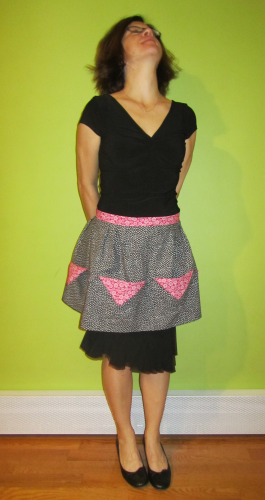 I blame my pose on my photographer, who gives me directions like "wave your hands around" or "look at the ceiling." Most of my photographs are clearly pictures of me caught in the middle of telling him how ridiculous his instructions are.
There's no copyright on the pattern, but it's probably from the late 1950′s.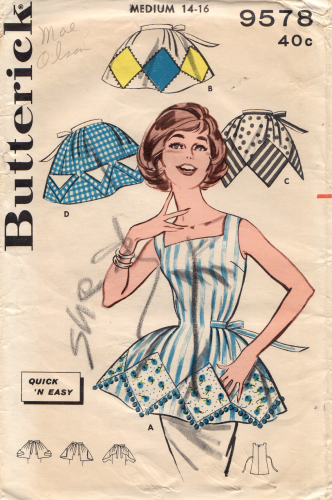 I'd been planning on making the full apron, but thanks to Karen's apronalong and the convenient timing of a fabric sale, I decided to make both a half and a full apron. I started with the half apron so that I could experiment with the pattern.
The apron has four sections of pleats; no gathers. The pleats are a really nice touch.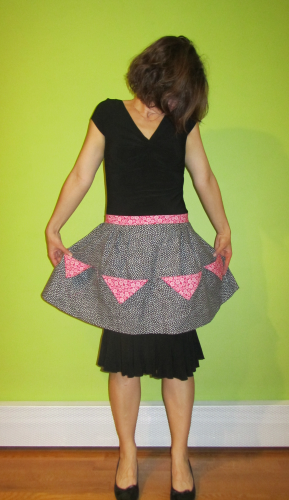 The pockets are made by sewing squares of both fabrics together, then the top corner is turned down to display the contrasting fabric.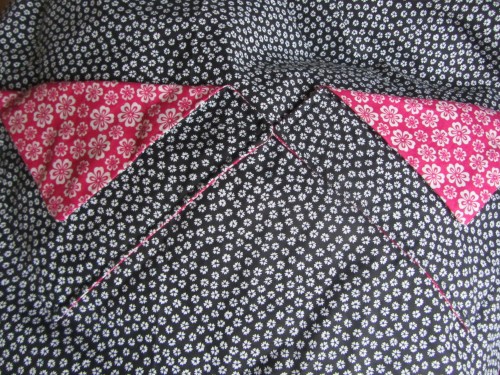 The directions just say to fold the pocket down. I was planning on tacking it down, but they lie pretty flat. There are four pockets total, and they line up at the corners.
The apron goes pretty far around, unlike the last apron I made.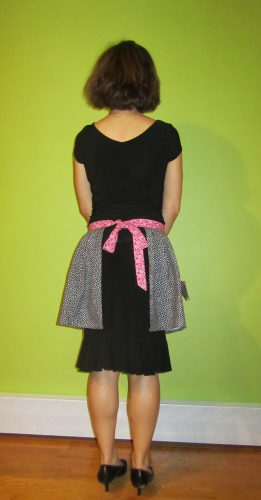 Here's a side view so you can see about where the pockets stop.
I really love how this turned out. Now I'm off to finish the full apron since the apronalong ends tomorrow!!!