The apron won this round, but I control the scissors…
I acquired a copy of Butterick 9578 a few months ago, and was very excited when the Did you make that? Apronalong came along because it gave me a reason to try out this pattern instead of finishing all the projects I'd already started.
I made my first apronalong apron using a free tutorial by Bari J. It was easy, fun, and very convenient because I caught a cold and discovered that the pockets are perfect for carting around tissues.
My second apronalong apron was a half apron – version D from Butterick 9578. I love this apron. I keep wanting to wear it, but I feel like I should only do so if I'm going to clean or cook. Since I rarely do either I'm going to have to come up with another reason because it's so adorable I can't not wear it. I even posted about it on WeSewRetro – my first post there – because of its charming vintage-y goodness. (The pattern is from the 1950s – unfortunately the exact year isn't listed.)
And then I moved on to the apron I really wanted to make…version A from the same Butterick pattern.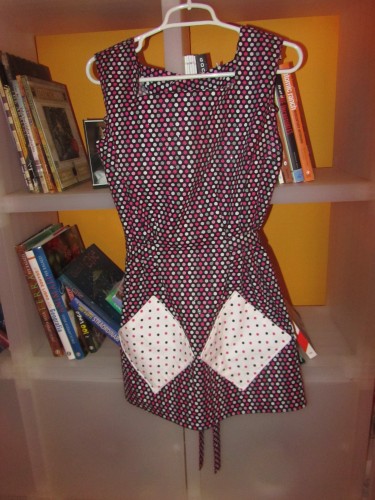 No, I'm not wearing the apron. I'm too cranky to want to be photographed in it; I'd just have a big scowl on my face.
The tie belt is quite nicely done. It's in two pieces; you sew the unfinished ends inside one of the pleats. The half apron has pleats on the outside; the full apron, which uses the same skirt pattern, calls for the fabric to be pleated on the inside instead of the outside. That makes sense because for the half apron the waistband covers the top half of the pleats, whereas with the full version the tie belt starts in the middle of each front half, and therefore wouldn't accomplish the same thing.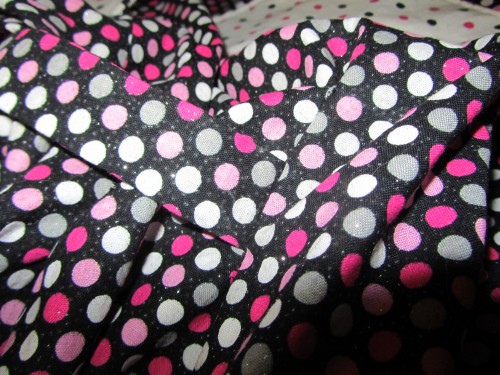 That's a close up of the tie belt and its enclosing pleat.
The pockets look very cute. I wasn't sure if I'd like them because they were folded down for the half apron, but they turned out to be just right for this variant.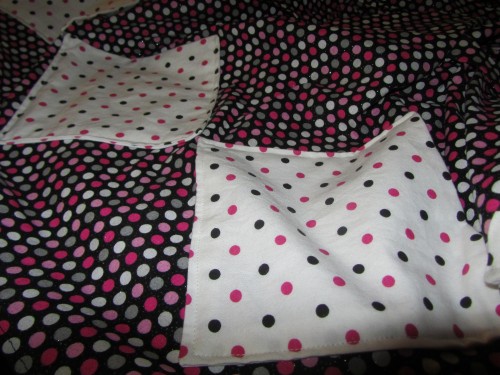 You may be wondering what's wrong… The bodice, of course…I always run into trouble with bodices. This apron is almost like a dress in that the bodice wraps around. Here's a shot of the button in the back.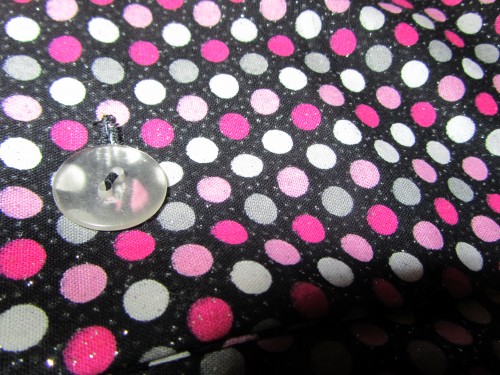 Those are sparkles in the fabric – it's a really fun print! The button isn't very exciting. The apron really should have a hot pink button, but this was the best I could come up with since I wasn't about to run out to purchase one button for a pattern that's irritating me this much.
I thought I'd be safe with the bodice because this is an apron, but apparently not. It bunches up in a weird way in the front, and in the back it's poofy and doesn't lie flat. I can fix this, but not in my current cranky state. So…technically the apron is done in time for the apronalong, but I won't be wearing it until I can figure out how to correct these issues. I'm toying with the idea of changing the back to be more like the gingham apron I made in the summer, but that feels a bit drastic. Probably.
On a positive note, I finally found the right fabric for my Peony dress!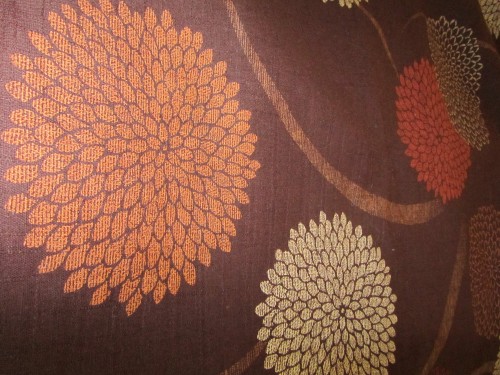 It's Japanese cotton I found at Elfriede's, the nicest fabric shop in Boulder. I bought a few other things, but was smart enough to restrict myself to buying fabric for only three patterns…nicest also means most expensive! I picked up a lovely floral print for the Sureau Sew-along (no, I haven't learned my lesson…yay for sew-alongs!!!), and two different wool crepes for a fantastic Simplicity pattern from 1942. I'll undoubtedly be making several muslins for that dress. The very nice lady who was helping me clearly thought I was a beginner. I wanted to say: thank you, but I'm an advanced beginner! I was very polite when she explained what a muslin is, and didn't even react (hopefully) when she told me that she makes her muslins out of $12/yard fabric because it's less expensive. I'm making so many muslins these days that I can't even keep up with the math to figure out what that would cost me! But she was very helpful, and while it did take three people to help me settle on the colors for the wool crepe dress, it was a lot of fun. And I can finally make my Peony! Of course, the sew-along for that pattern is over…but at least I've found a fabric that I love!