It must seem like all I ever make are aprons and pajamas…and there will be at least one more apron since I recently won an apron pattern!!! It's a digital reproduction of a 1938 Pictorial pattern by Anna Depew of A Few Threads Loose.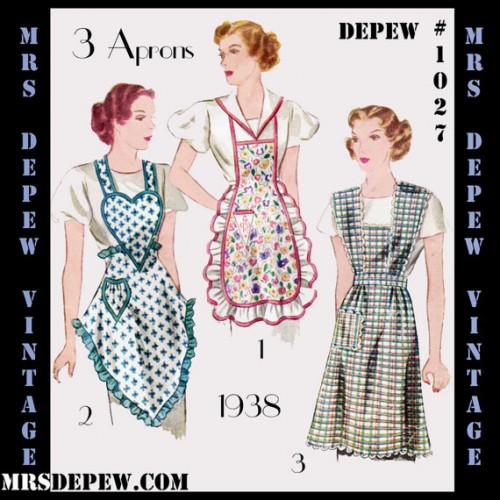 What's even better than winning a pattern is winning one that you've really, really wanted! Anna wrote a post about this pattern back in July, and I fell in love with it, but she hadn't yet decided to make a reproduction. I looked around and found another fantastic vintage apron pattern which I used for my gingham apron. I've kept an eye out for the Pictorial version, but I haven't seen a single one listed anywhere…and now I have the reproduction! Yay!!!
Back to pajamas…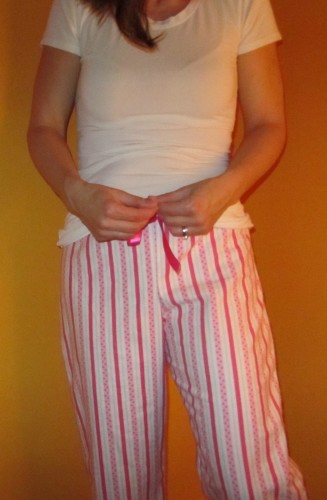 A few weeks ago we had a snowy weekend, and that was the perfect inspiration for making another pair of flannel pajamas. Fortunately it's been warmer lately, since I refused to wear the pajamas until they'd been photographed. My photographer has been busy getting ready to launch his software product, so I finally figured out how to use the automatic timer. I'm also running into a challenge because all the walls in my house are painted in pretty bold colors that are great to look at every day, but not so great as backdrops. I'm going to go with the notion that everything doesn't have to match.
This is the same pattern I used for my polka dot pajamas, with a few modifications.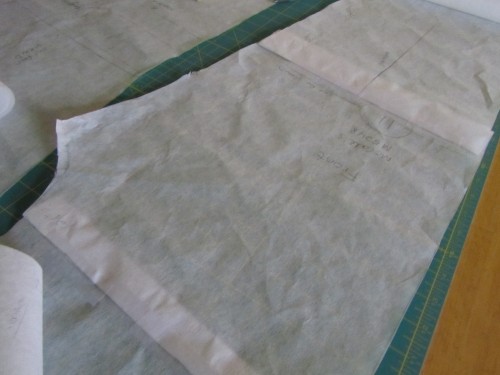 I lowered the waist scientifically instead of doing another cranky hack job, so this time I took off 2.5″ at the front, 1.5″ at the rear, and 2″ at the sides, tapering along a straight line drawn with a ruler. It is possible, and perhaps even likely, that a French curve would have been wiser – but the end result fits so well that I don't care. I also shortened the length, and actually did so using the handy lengthen/shorten line on the pattern. These two changes resulted in several minor adjustments to the crotch and inseam that I didn't think would make a difference, but which turned out to be quite useful. Next time I'll take off another inch off the length, but now that I've learned my lesson I'll do so in the proper place.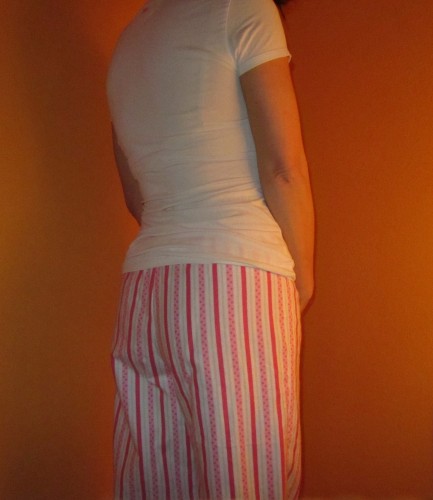 I am almost done with several other projects right now, all of which are significantly more challenging than making pajamas. One of the dresses is my Peony, which has been mostly educational and only a bit frustrating. I say "only a bit" because I've been wanting to learn more about fitting, and boy did I get the opportunity with this pattern! The other projects include the Sureau dress, Thurlow trousers, and the lone pattern that doesn't have a sew-along to be late for: a vintage McCall's dress that's done except for the buttons. Apparently I don't enjoy sewing buttons, because I'm averaging one button per week. Or less.
The flannel I've been using is fantastic. I found it at fabric.com, and took advantage of their holiday sale to order even more…so I'll be making one more pair of winter pjs!