It took almost a year, but I'm finally done with McCall's 7233!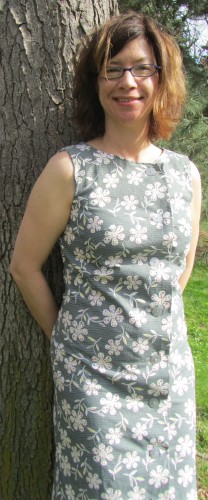 This was one of the first projects I started last year when I got back into sewing after a gazillion years away. I hadn't yet discovered tracing paper, so I actually cut the pattern pieces. (Oh, the guilt!) This was also one of my first experiences with quilting cotton. I love the print, but it does tend to wrinkle easily.
The pattern was very easy to follow, but there were a few steps that weren't described, like how to deal with the inside of the neckline. The hardest part, though, was finding buttons to match the fabric. I searched for several months, and even bought my first batch of vintage buttons on Etsy, only to find they didn't go with the fabric after all. That did lead to me discovering the wonderful world of vintage buttons…let's just say that wasn't my last vintage button purchase.
I finally found these at Joann Fabrics: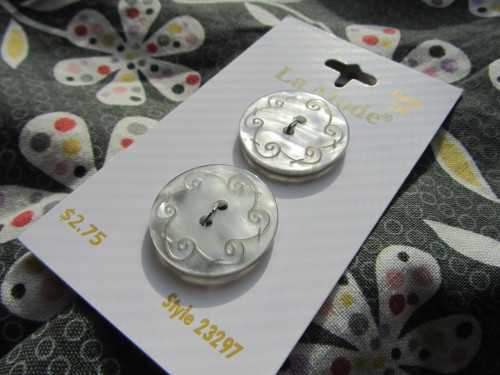 They're a perfect match for the fabric!
The pattern called for bound buttonholes, but I decided I couldn't be bothered with all that work. Besides, I had only made a few buttonholes with my spiffy new Janome, and I wanted to make more. It's super cool to watch your sewing machine make buttonholes without you doing a single thing. I actually am looking forward to making bound buttonholes another time, but I may wait until I'm a little less fascinated with watching the Janome.
The most helpful thing I learned from this pattern was about what back darts do. When I sewed them I was reading The Complete Photo Guide to Perfect Fitting, and it was really neat to see how what I was reading about worked in real life. Obviously this was not anything crazy – back darts are pretty basic – but having what I was reading coincide with what I was sewing was very helpful. If I make this dress again I'll fiddle with the darts to see if I can improve the fit. I'll also iron it before I take pictures…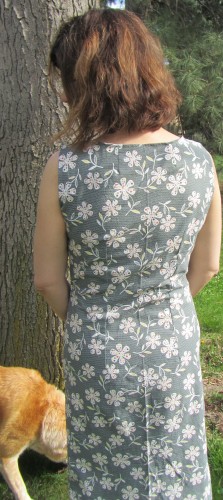 The biggest issue I had was the fit of the bodice at the neckline. I tried on the dress before sewing the buttonholes and buttons, and I thought it fit correctly. I was wrong. The neck was much too wide. I ended up moving the top two buttons to take in some of the space. I had already sewn the buttonholes so I was constrained on that side. It's closer now, but it could be a little better.
The other thing I found is that the dress moves and wrinkles in weird ways. Some of that is the fabric, since it's a heavier cotton, but some is the cut. For example, look at this photo.

The weirdest wrinkle looks like it's at my waist, but it's really 3-4 inches below my waist. I may try moving the bottom buttons around to see if I can improve this. My theory is that the dress should be a little wider at that point – or at least it should with this fabric. I think a less stiff fabric wouldn't act the same way.
The dogs were, of course, a big help with the whole process.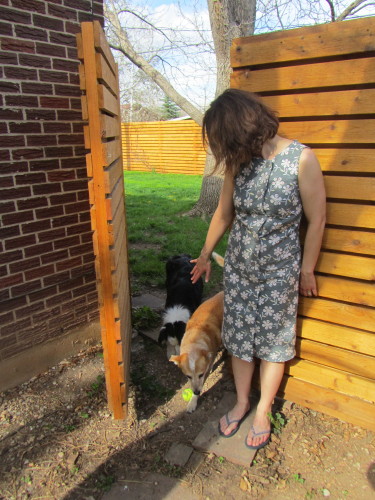 My novel is out now, so I finally have more time to sew, and I'm filled with the enthusiasm spring brings – so I'll be posting about my next project soon. It's my first experience with Liberty of London lawn, and oh! do I love this fabric!!!