After reading about Anna Depew's latest apron I knew I needed to sew one myself. That didn't mean I actually needed an apron…I have three perfectly fine store-bought ones. And it certainly didn't mean I'd sew an apron nearly as well as she did.
Unfazed by these facts I plowed ahead, using this lovely pattern from 1942:
I quite enjoyed making this, and the extra excitement of having a needle break made it even more fun. This is the attitude of someone who took too much time off from sewing… Years ago such an occurrence would have made me irritated instead of gleeful, especially considering the fabric I was using. Who breaks a needle sewing lightweight gingham?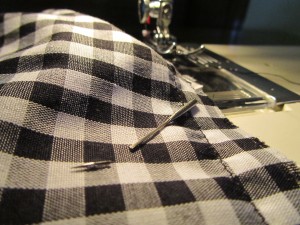 Fortunately I had some spare needles in the secret compartment of my sewing machine. It did briefly occur to me that they might not be the right size, but to be sure I would have had to dig out the manual, so I decided to hope for the best. Luck was on my side.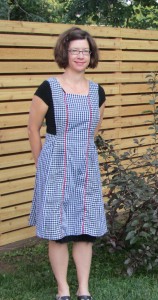 Even a casual glance will tell you that while this is a cute apron, it's not as figure flattering as the pattern cover might lead you to believe. But it is cute!
I love the strap in the back.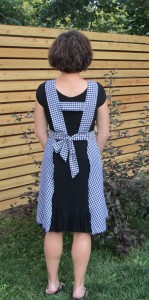 I learned a few things from making this:
If you can't understand the directions and decide to go your own way, figure out what your way is before starting.
It's best to not drink sangria until after you've finished sewing for the day.
I love rickrack.
Wow, do I love rickrack. What's not to love?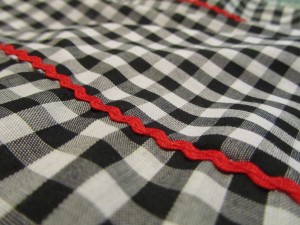 (There are a slew of ways to spell rickrack, so I've opted for Wikipedia's version.)
I didn't use as much rickrack as the pattern called for. The instructions say "Trim apron with rick-rack braid as illustrated on envelope." Since the envelope was in another room (coincidentally, the same room as the Kenmore manual), I put two strips of rickrack over the two front seams. After my photo shoot I realized I'd under-rickracked. I quickly added it to the side seams, but decided not to continue the rickrack up the straps as indicated on the pattern cover. That seemed like an excessive amount, even given my newfound obsession. Besides, I was out of rickrack.
Here's the final version, although it's somewhat difficult to see because I was distracted by my newly washed and therefore extra fluffy companion.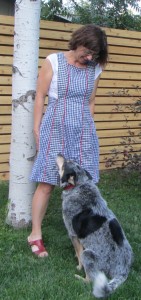 Lucy matches the apron – she even has a red collar!
If I make this again I'll use a different material. I love gingham, but this fabric (it's 65% polyester, 35% cotton) is too thin to really protect your clothes if you're doing something like cooking. Fortunately cooking is man's work in our household, so I can wear my apron while I do women's chores, like sipping wine while watching my chef slave over a hot stove, or cuddling with one of the dogs.