I love polka dots. And I love pajamas. What could be better than polka dot pajamas?
Flannel polka dot pajamas!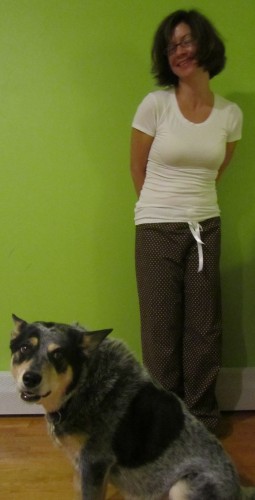 Lucy likes them too!
Four of my current sewing projects involve fitting issues, which is fine because I'm learning a lot – but I really just wanted to finish something for a change. Pajamas seemed like a nice, safe, easy project. Little did I know…
The last time I'd made pajamas was about 10 years ago, and as I'd tossed that pair years ago after the fabric had worn thin I couldn't review how well they'd turned out. I did remember that I'd had some issues with the pattern (Simplicity 9329), although so much time had passed I couldn't recall any details. I saw a reference on someone else's blog (I can't remember who) to McCall's M5248, so I decided to give it a go and then compare the two patterns.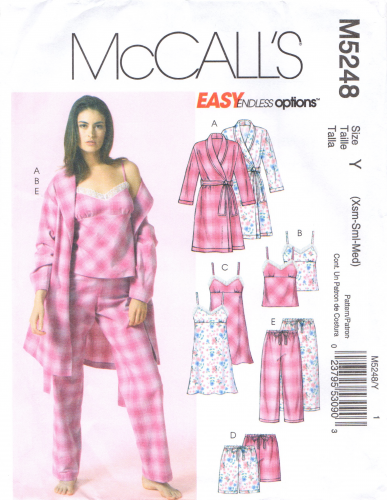 The new pattern worked pretty well right out of the gate, except that it was a bit too high in the waist. Two inches too high. I even made a muslin (I'm getting muslin-happy – who makes a muslin for pajamas?) and didn't even think to look at the waist. I had no idea there was a problem until I tried them on – after sewing the waistband and threading the elastic and ribbon through. Oops.
Fortunately my sewing shears are nice and sharp, so I hacked two inches off all around and stitched everything up again.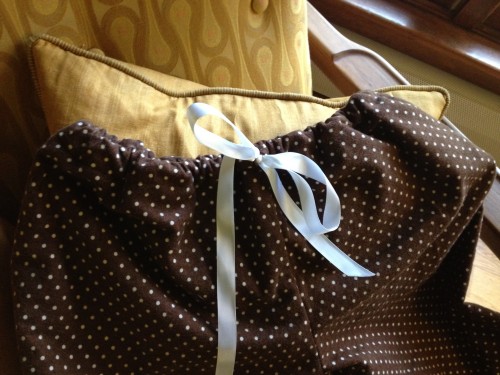 The pattern calls for a self-fabric drawstring, but that didn't seem as fun as a piece of ribbon. I used double-sided, 5/8″ ribbon. I also threw in some elastic, because who wants their pajama bottoms to fall down? Besides, this way I can leave the ribbon in its nice, neat little bow.
The Simplicity pattern calls for two holes for the drawstring, but the McCall's pattern only has one and that seemed odd. It works just fine, but the way the fabric folds means it's a fun task to thread everything through. To be fair, it was a lot easier with the first waistband – by the time I'd sewn that, chopped it off, and then worked the elastic through again, I was a bit cranky. (The ribbon and elastic had been pinned together, but decided to part ways somewhere in the depths of the waistband.) Fortunately my handyman stopped by and saw my plight; he worked the ribbon through in mere minutes with the help of some wire and duct tape.
Here's a close-up so you can get a feel for my reaction when I realized I'd lost the ribbon.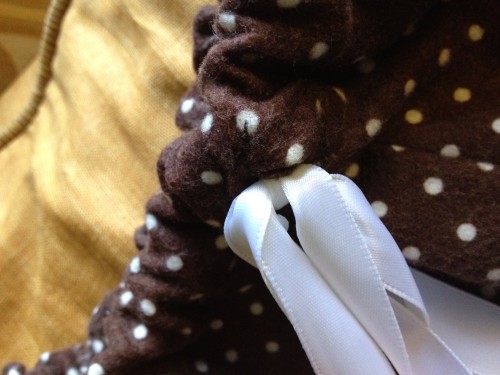 It turns out that hacking 2″ off all around wasn't the best plan. I should have tapered the cut – a little more in the front and a little less in the back. They fit okay, but could be better. I'm going to modify the pattern accordingly and see how the next pair turns out. I do still want to try the Simplicity pattern, but I appear to have embarked on a quest for the perfect pajama pattern, and like any quest there promise to be many adventures and misadventures along the way.
In the meantime, while they're not perfect, this pair is comfortable and super cozy. And yes, that is a Lucy shirt I'm wearing!