My first experience with Liberty of London fabric was so wonderful I'm now having to fight the urge to buy more and more and more!
Fortunately it's so pricey that I have yet to talk myself into spending the money…but it's really just a matter of time before I cave.
I purchased this lovely print from Fabric.com last fall: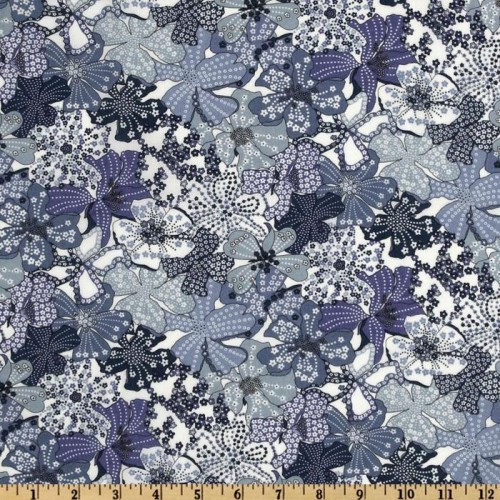 I had a coupon for 30% off. The (pre-coupon) list price was $32.98, which is low compared to what I've seen this fabric go for elsewhere. I'm keeping my eyes peeled for more coupons!!!
I was originally going to make a blouse, then got on a skirt kick and this fabric seemed perfect. Here's the result.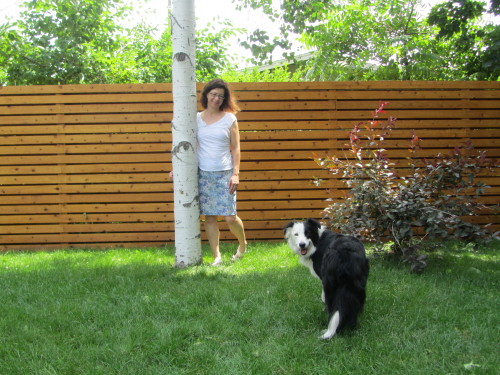 Jasper has shown little interest in sewing, and is really only in the photo because he thought I had his squeaky tennis ball. Maisie has taken over the role of sewing companion, but she didn't want to leave her shady spot under the table on the patio, so she missed out on today's photo shoot.
I made version B of New Look 6155. I was going to add the decorative waistband loop the pattern calls for, then changed my mind and made it loop-free.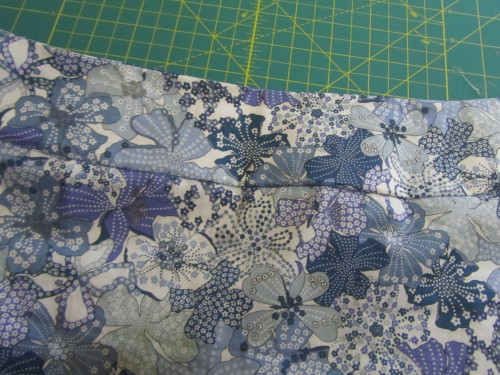 I only have two issues with this skirt. The first is that I must have made the hem shorter than the pattern called for, because this is what the slit in the back looks like: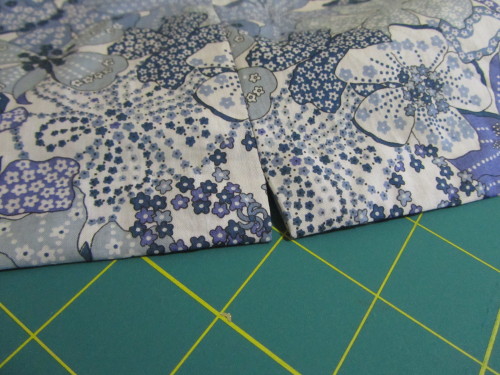 It seems a bit…silly. I'm going to either lengthen the slit or remove it entirely, I haven't decided which.
The second problem is that the skirt is too large. Conveniently, I'm a little large right now too, but at some point this is going to become a problem. I even went back and checked the pattern to see if I'd mistakenly cut out the wrong size, but I hadn't. I had cut out a size 12, which the pattern claims has a waist measurement of 26 1/2″ and hips of 36″. Clearly this is not the case – I'm going to have to take in both the waist and hips by at least an inch. I do like the pattern, so I'm going to make another version in a size 10, and then adjust this skirt based on how well that goes.
I've been extra busy for the past few months – my goal was to finish the first draft of my current novel before doing much else. I'm close to two-thirds of the way through the first draft, but it's going a little more slowly than I expected, so I've been doing a little more sewing lately. Which is probably what I should have done in the first place. Sewing is a fun – and productive! – break from writing. I've finished a few more sewing projects, but I'll hold off on posting about them because I'm about to embark on something new and exciting…pattern testing!
I'm testing this fun pattern: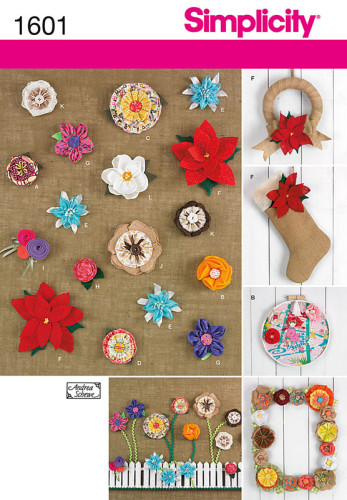 It was developed by Andrea Schewe for Simplicity. Andrea has designed patterns for years, and I'm thrilled to have the opportunity to test out one of her patterns. She has posted tutorials on making these flowers on her blog.
Flower photos coming soon!