This is a skirt version of the seersucker shorts I posted about a while back from New Look 6354. I made view E, partly because I didn't have very much fabric, and partly because the fabric I used is a medium-weight cotton and is therefore a bit too thick to work well in view F's wider skirt.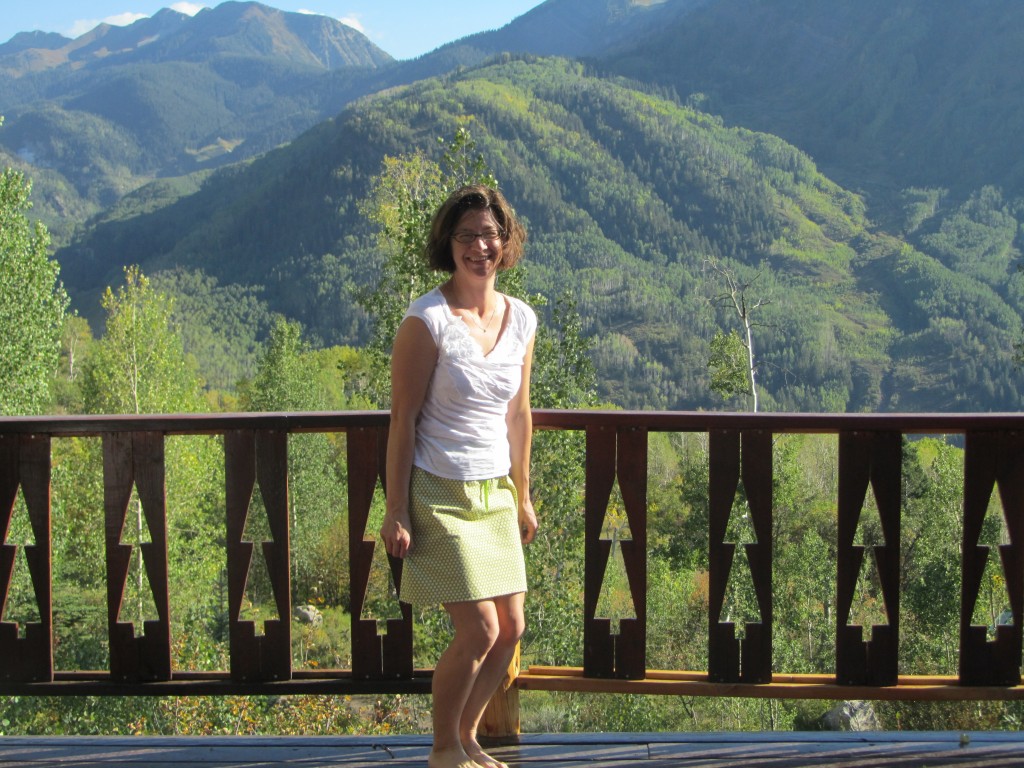 Alas, that fabulous view is not from my house. We spent the last week in a cabin in Marble, Colorado – the white blob in the background on the left side of the picture is the marble quarry. It was a lovely vacation, made even lovelier by the fact that the nearest cell signal is 30 miles away. Of course, the nearest gas station is also 30 miles away, which was a bit less fun.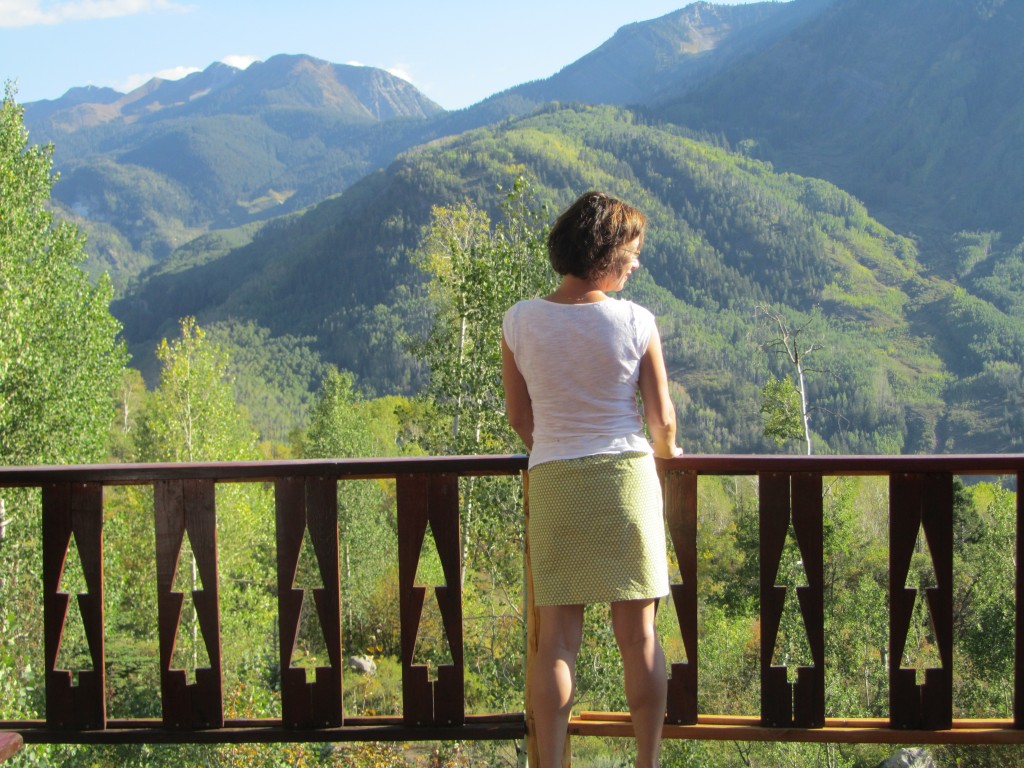 I adore this fabric, and even though there wasn't much left on the bolt (maybe a little over a yard) I knew I'd come up with something to do with it. I didn't put much (okay, any) thought into the weight of the fabric, but after I'd finished the skirt and started reading up about cotton I ran across a Tilly and the Buttons post about sewing clothing with quilting cotton. I would happily make this skirt again from the same fabric, but I have learned that there is one thing you run the risk of when using a cotton like this one…wrinkles!!! I made the mistake of wearing the skirt for a few hours before the first round of pictures, and I now have a nice collection of wrinkled skirt photos. (For the record, it took three sessions – partly because I neglected to bring my iron on vacation.)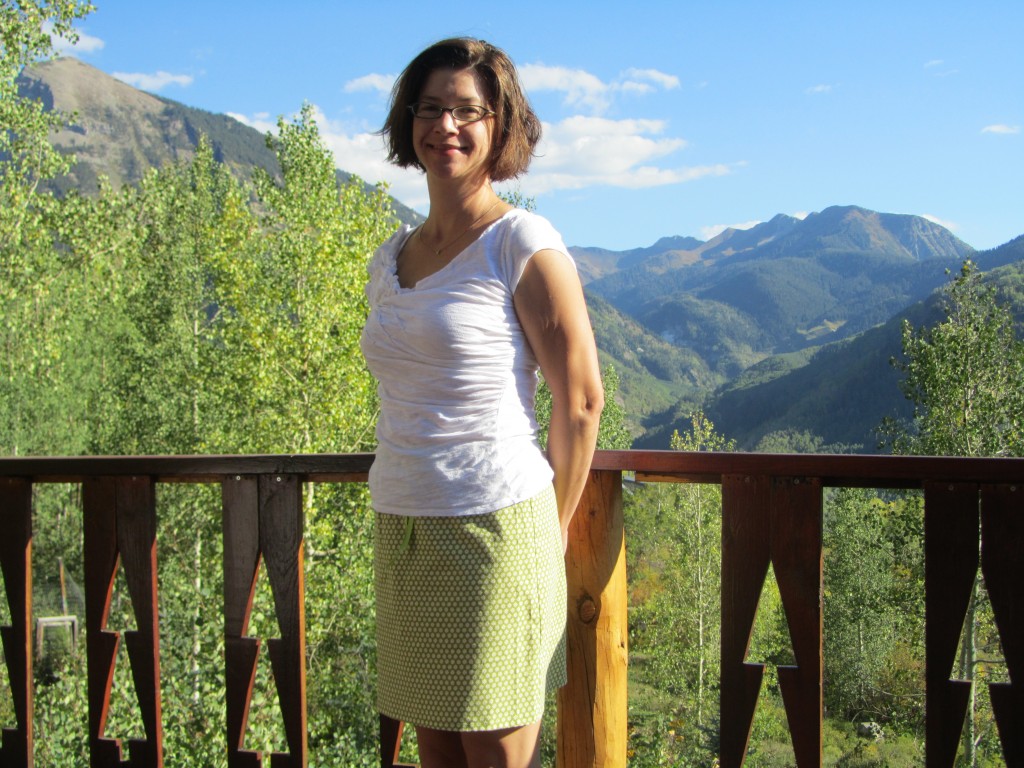 As long as I'm not being photographed, I don't seem to mind the wrinkles. The daisies are so happy there's no way you can look at them and be upset! And if I have to avoid sitting down when I wear this skirt, I'll just wear it to events where there aren't any chairs.
This skirt was the inspiration for sewing machine #2 – that was before I discovered the Rocketeers and brought my total to the current somewhat ridiculous four. While the daisy skirt is held up by elastic, the pattern calls for a decorative ribbon as well. It had been probably ten years since I'd made a buttonhole, and it turned out that my 25-year-old Kenmore is no longer willing to make one-step buttonholes. I didn't even know there was a way to do them in more than one step! The very nice technician at the sewing shop offered to show me how, but I was thinking about everything I had in the queue at the time that needed buttonholes (four patterns, for a total of 14 buttonholes), and the three extra steps per hole! felt insurmountable. I mean, really – that would have been an extra 42 steps! I struggled with the concept of practicality for a minute or so, then came home with a spiffy new Janome: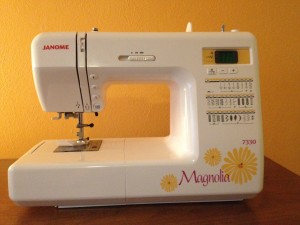 It sews lovely buttonholes, and I don't even have to be sitting at the sewing machine while it does all the work! How awesome is that?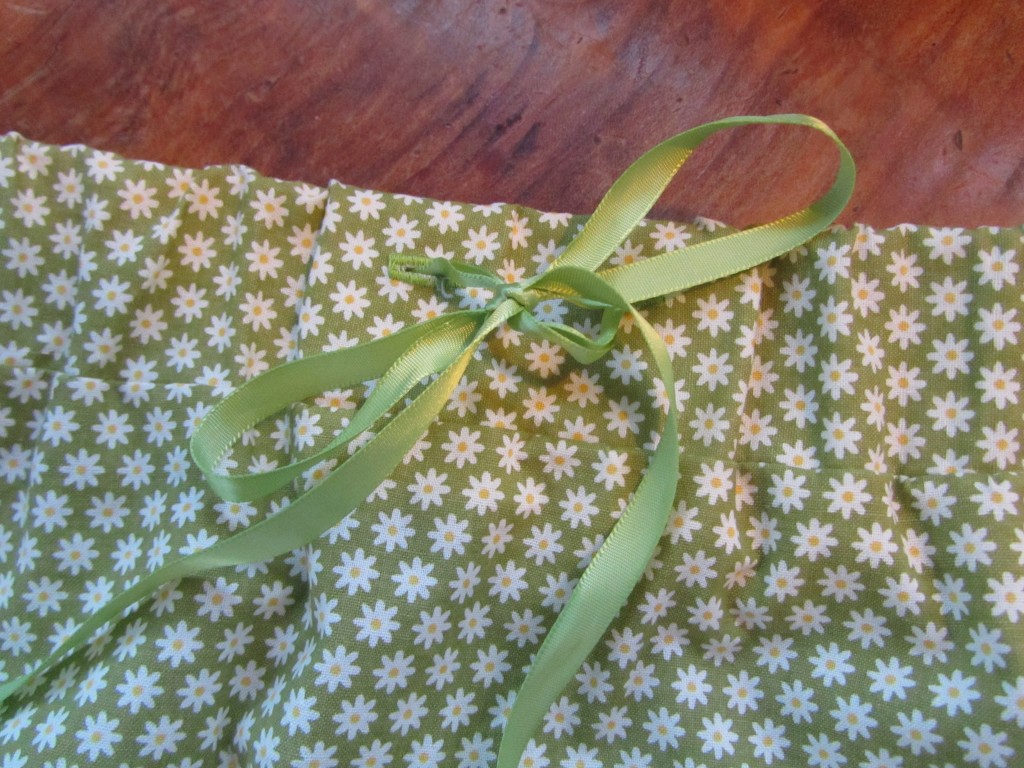 The Mister was a bit alarmed when he walked into the room to find me ten feet away from the Janome while it was industriously making a buttonhole, so I promised to stay closer to it "just to be safe." But – wow! And look at those buttonholes!