In the past week I've signed up for not one but two sew-alongs! I'm getting a little nervous about reading sewing blogs…who knows what else I might commit to???
The first is Sew Colette 2.0.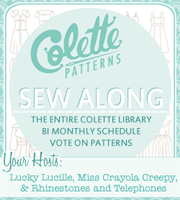 I've been watching all of the lovely creations that have come out of this sew-along, as well as peeking at those from the previous sew-along, but I wasn't planning on participating. I'm currently working on four sewing projects, with varying degrees of success, and that seemed to be quite enough.
Then I saw Colette's fall patterns and spent just a little too much time admiring the Peony dress. It's not really my fault – I'm a sucker for polka dots.
Not only have I signed up for Sew Colette 2.0, it seems only fair that I should catch up with everyone else and not sneak in late and start with the current pattern. This felt like quite a challenge when I thought I was only one dress behind, but it turns out I'm actually behind by two (Hazel and Macaron). Fortunately I took advantage of my enthusiasm before realizing the enormity of my undertaking, and went shopping!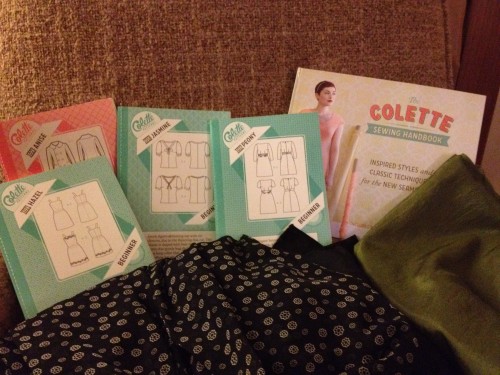 I'd been eyeing the Colette Sewing Handbook for months, but kept putting off purchasing it because I own plenty of other sewing books and couldn't figure out how to justify yet another. Apparently all I had to do was think about buying it for the five patterns that come with it! It was a relief to finally come up with a rationalization that worked.
Of course, the first time I opened the book it happened to be to the page on which Sarai talks about 'the dark side of fashion,' where fashion 'can also fuel an almost endless desire to consume, to buy more things and to buy them less thoughtfully.' Momentarily alarmed, I realized this of course did not apply to me because all of my purchases were related to things Sarai herself had created. Plus I'd thought about everything I'd bought for at least an entire day beforehand.
I snuck in Jasmine and Anise because they're so darn cute. I'll make them if I survive the sew-along.
Happy with my latest over-commitments, I bought some fabric that might or might not work for Hazel and Peony. And then I signed up for another sew-along!
Karen, whose blog Did you make that? is one of my favorites, announced an Apronalong a few days ago. How could I resist? I did just make an apron, but you can never have too many! Besides, not only do I have one more apron pattern that I'd love to try out, I also got to put another cute badge on my blog:
Now I just have to make three dresses, an apron, finish my novel, study Italian, and then there's the day job. Something is clearly going to give, and your guess is as good as mine as to what!
I can say with certainty that there's something – or perhaps I should say some things – that won't be shortchanged no matter what…