My latest flower for Andrea Schewe's pattern test is view D.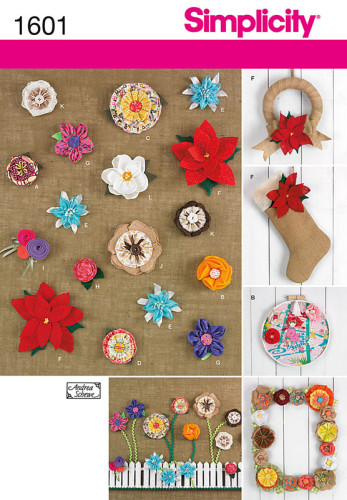 This flower consists of three gathered strips sewn together. Gathering these was super easy – and this time I used my machine and that's what the pattern instructions called for!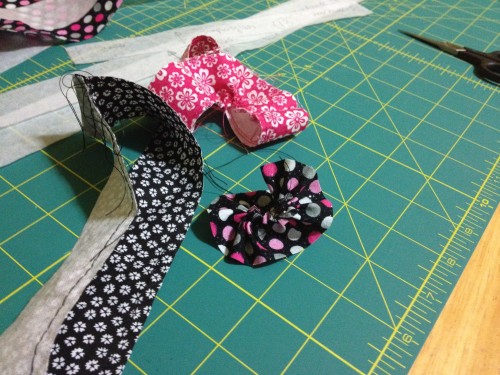 The one thing I've found a little confusing so far is how many stitches to make when gathering. For view A, the illustration made it look like I was to sew one gathering stitch, but for view D it looked like I was supposed to sew two. So I did, and I'm going to assume that going by the illustration is the thing to do – but since I'm "testing" the pattern I'm trying to think about what might be unclear to someone else.
The most alarming thing about this flower was that it made it brutally obvious just how few fabric scraps I have. And here I've been thinking I had too many! I had to find four fabrics that went together well, and boy was that a challenge. Never again will I feel guilty about keeping a tiny scrap!
The three strips are of different widths and lengths. After they're gathered, you sew them together to make the petals of the flower.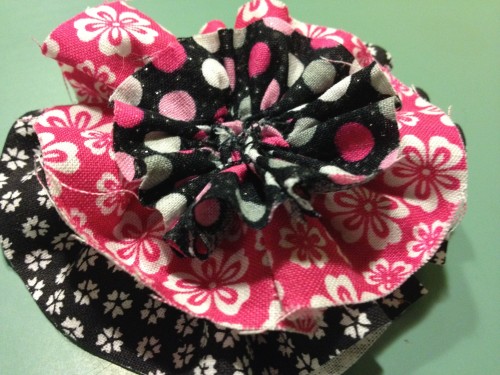 The center of the flower is a button with a tiny circle of fabric sewn over top. This was quite interesting. When I first looked at the pattern I assumed that this was a fabric-covered button. I don't have any at the moment, and while I've got everything to cover buttons, I've never tried it – so I wasn't quite sure what I'd do when I got to this point. It turns out that I had worried needlessly! Andrea's pattern calls for you to wrap a circle of fabric around a button, then gather the fabric around the button.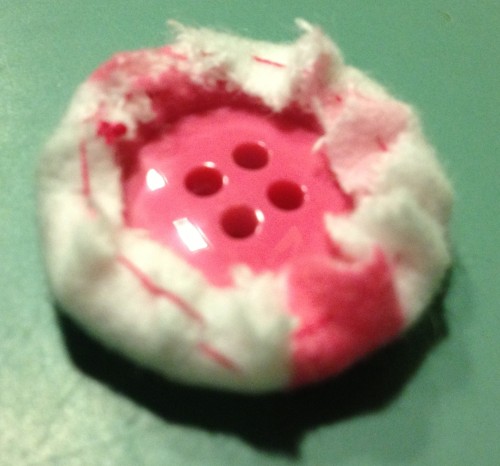 After camouflaging the button, you stitch it to the petals.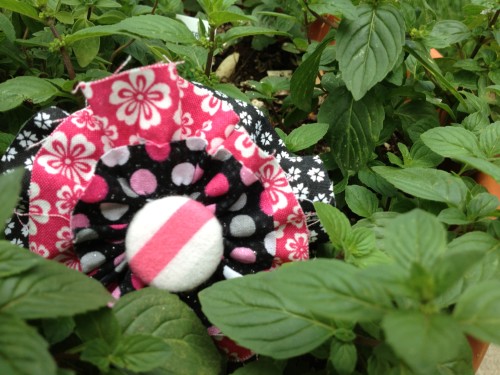 Next you add a base to the back of the flower, plus leaves. Both are felt. Apparently I never bought green felt during my Christmas holiday craft phase years ago (although I have a zillion jingle bells left), but I did have black (from my Halloween craft phase). Since this flower has so much black in it, I thought I'd give black leaves a try.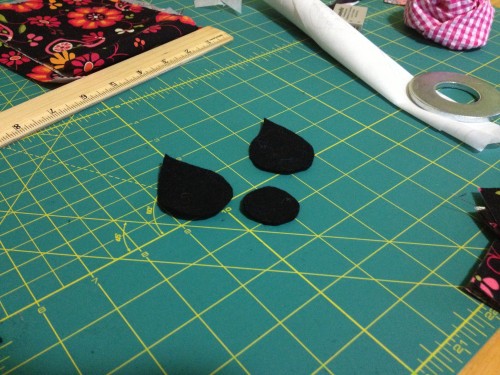 The colors may be a bit non-traditional, but I quite like the black leaves.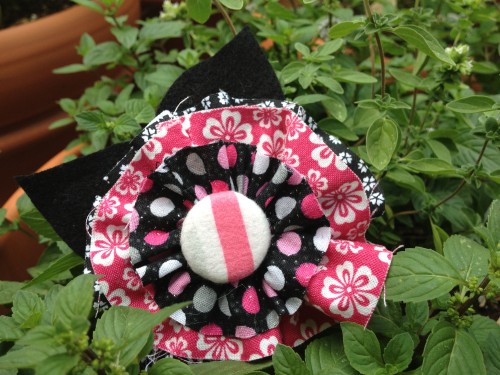 The funny bulge in the pink petal section is because I didn't sew that section to the other two petal pieces well. This part is all hand sewing, and you're stitching through three layers of gathered fabric, so it's easy to miss a chunk if you're not careful. I think I was focusing more on the outer and inner petals, and missed a section of the middle. It's stitched in now, but it would look better if I'd noticed this sooner.
The one thing I wasn't sure how to do was fray the ends of the fabric. The pattern says to place the lower end of the pattern piece on the cross-grain torn edge of the fabric. I didn't read this until I'd already started gathering – which is totally my fault, not Andrea's. This instruction is in the right place – I just have a (bad!) tendency to jump around with pattern instructions, and I skipped over this one at first. Andrea shows how to do this correctly in her tutorial for views C and D.
I'd also like to try this in other fabrics. In Andrea's tutorial she made some petals from burlap, and I really like how they turned out.
My next flower is view A again, but I'm going to do something a little different with it than last time. I'm excited – I really hope this turns out well!
The dogs were too sleepy to be in any photos today because we went on a long hike this morning, but as you can see they were very, very happy.