I've made my first flower for my first ever pattern test!
Andrea Schewe designed this pattern for Simplicity, and I'm very excited to be one of her pattern testers!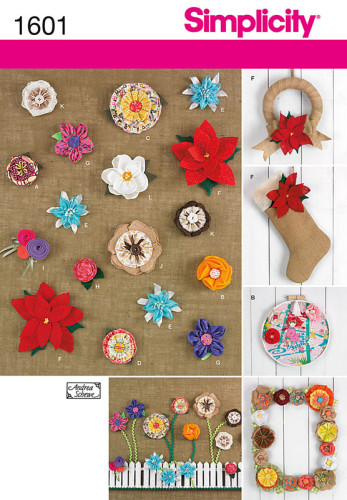 Let's be clear, though…Andrea asked for volunteers. I was not selected based on any skill other than I responded to her request on her blog post.

I decided to start with view A, but found myself baffled by the pattern.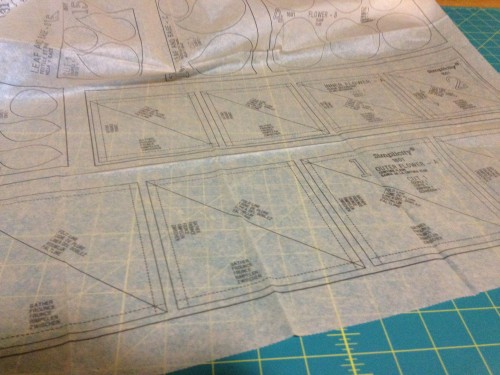 It's been close to 20 years since I followed a craft pattern, and the pieces are all so small! That may explain why I was confused by all the boxes required on piece #1. After a minute of staring at it, I realized that this was total user error…there are four boxes because you have to cut out four squares. I've gotten so used to working with tracing paper over the past year that cutting fabric out this way didn't even occur to me.
After recovering, I traced one square for piece #1 (the outer flower portion) and one for piece #2 (the inner flower portion), then cut out my fabric.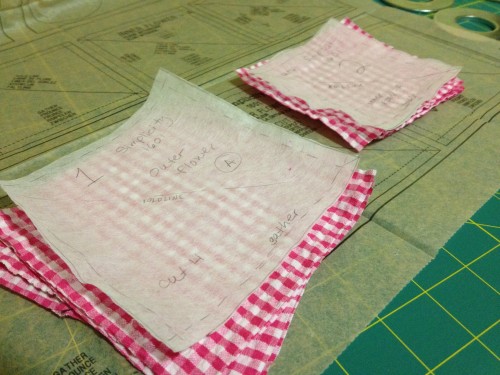 I'd like to use flowers from this pattern to decorate a few things – a bag, a top, a skirt – but I couldn't visualize how view A would work in a patterned fabric, so I decided to start with one. I had some seersucker gingham leftover from a dress I may or may not finish this summer, and it seemed like a happy fabric choice.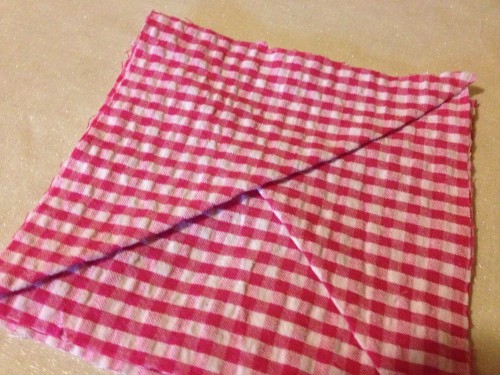 The pattern calls for laying out the squares, then hand gathering them. I decided to use my sewing machine instead.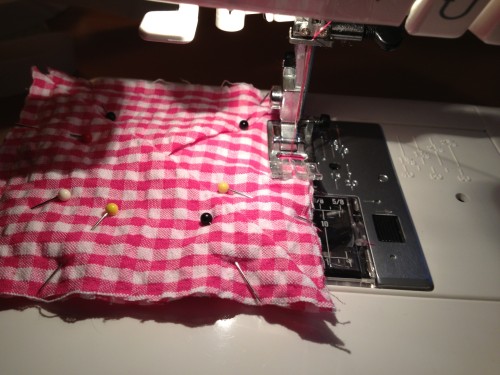 After struggling with the thread and hoping that the ends of the seersucker didn't fray too much, I ended up with a gathered outer flower.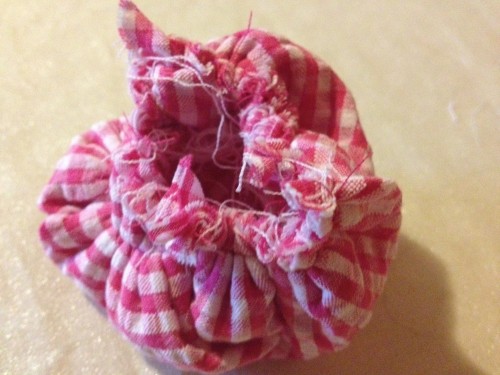 After gathering both the outer and inner flower pieces, they looked like this. Aren't they cute already?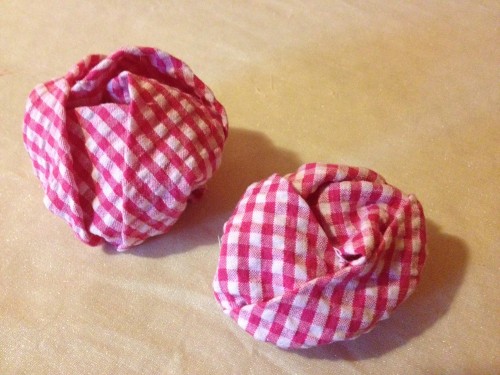 Once both pieces are done, you sew the inner flower inside the outer. You could glue it, but I sewed mine because I ultimately want to use this on something that will be washable.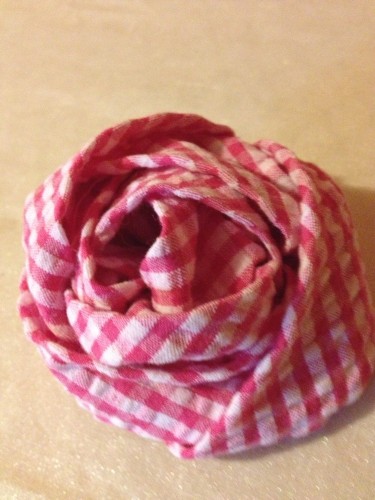 The pattern calls for two additional things which I decided not to do: add ribbons to the center of the flower for the stamen, and add leaves to the base of the flower. I was going to add the ribbons, but I was so enamored with the flower as-is that I decided to leave it be. Before starting, I'd decided to not do the leaves because what I'd like to do with this view is sew it in clusters on a bag or skirt, and the leaves didn't seem to fit with the vision in my head.
I really love this flower. It's super cute, and the gingham was perfect!
The only thing I would do differently next time is finish the edges, and that's only because I'd like to sew these on to something else. That's probably not the use Andrea had envisioned, but I think this pattern will work fantastically well for what I need. I've been wanting to do something like this ever since I accidentally bleached one of my favorite tops that had flowers around the neckline. (The top was white, but the flowers were in a different fabric and are now more of a taupe…oops.) I also might try scaling the pattern down and making this in a smaller size.
I have fabric cut out for another view, and am looking forward to seeing how that one turns out!