Since I made my Christmas tote bag last fall, I've been wanting to make another bag – but I wanted to add something decorative. Andrea's flower pattern, Simplicity 1601, provided lots of fun flower choices. I loved the pink gingham flower I made a few weeks ago so I decided to go with that version. I had some cotton fabric I purchased last fall during my apron-making spree, and came up with a plan for the bag and three flowers to sew on the outside of the bag.
The pattern calls for not sewing the edge of the fabric on the bottom of the flower (the part that attaches to the felt base), but I decided to sew this for two reasons. First, because I thought rough edges might be too visible on a bag, and second because the gingham flower was wider than I wanted this time around (since I wanted to attach three flowers instead of just one).
I started off by sewing the edges of the flowers except for a small hole, then I turned them right-side out and pinned them in place. Because I was stitching the gather (which I did by hand…this time…), it wasn't necessary to finish off the unstitched portion. After the gingham flower, pinning these together was super easy – which was good, because with three flowers I had to pin/gather six separate rosettes.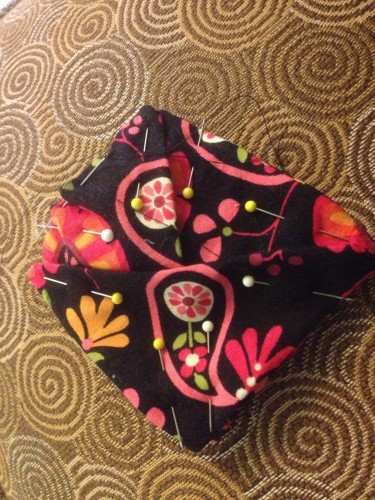 Gathering the flower by hand turned out to be pretty easy. I did end up breaking the thread a few times, but it was pretty easy to recover from. I think you could avoid that by either using two gather threads instead of one, or by making larger stitches.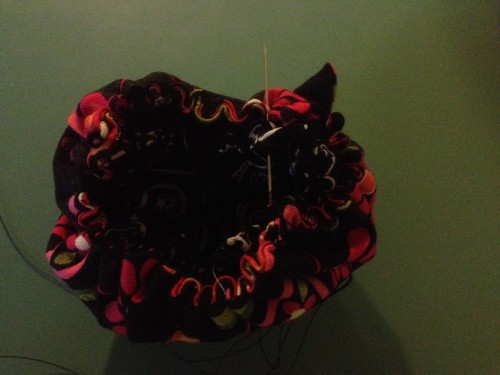 I didn't follow a pattern for the bag, which could imply something about my skill level, but really indicates a complete lack of patience. I went back to see what measurements I'd used for my Christmas tote bag, then looked at that bag and decided it was taller and narrower than what I had envisioned for this version. I went with the following measurements.
main fabric
exterior and interior: 16″ x 17″ on the fold
contrast fabric
straps: 3″ x 27″
interior pocket: 6″ x 6″
I changed the size of the pocket at the last minute because I realized I'd changed the width of the bag (to roughly 9″) and the pocket I'd cut out was much too large.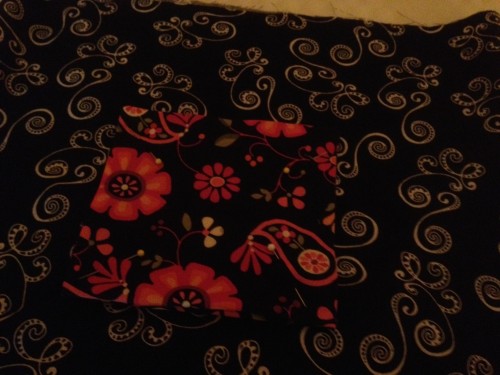 I didn't realize I was going to change the depth of the bag until I eyeballed it when I went to sew the bottom seams. My last bag was 3″ deep, but this one is 5″ deep.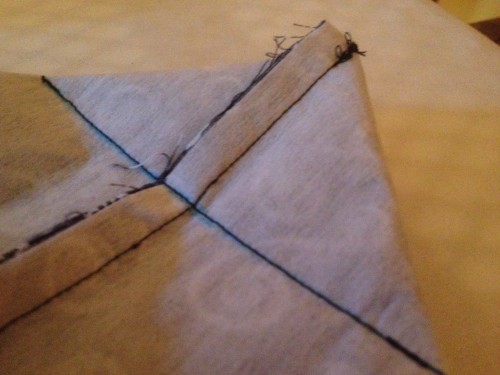 This time I put a layer of interfacing on the inside of the bag to make it a little sturdier. Next time I'll do the same for the straps – I didn't think of doing that until I'd already sewn them.
I laid out the flowers on the bag to figure out how they should be arranged.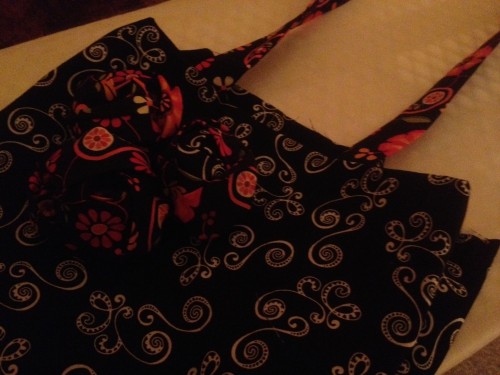 Since I had three flowers to attach right next to one another, I decided to sew one large felt base instead of three separate bases.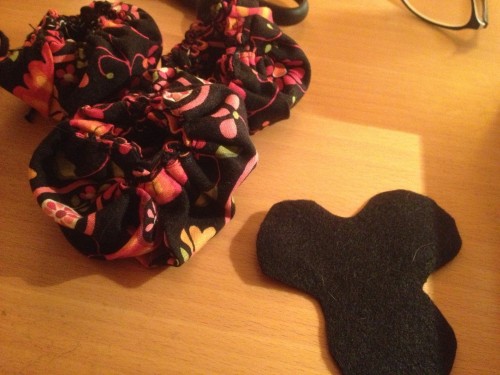 Sewing the felt base on was not too much work.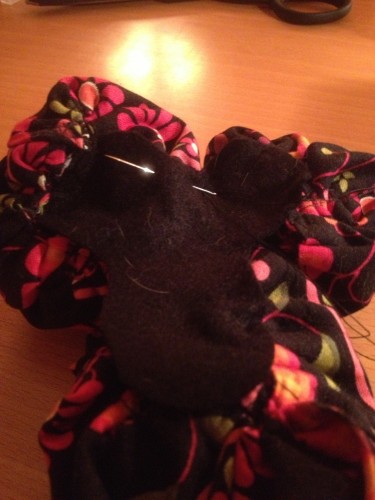 However, sewing the base on meant that the flowers were secured together on the bottom – I needed to do extra stitching on the top to make sure they stayed close together.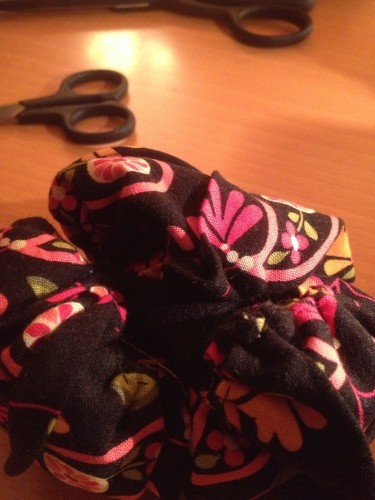 Maisie kept me company.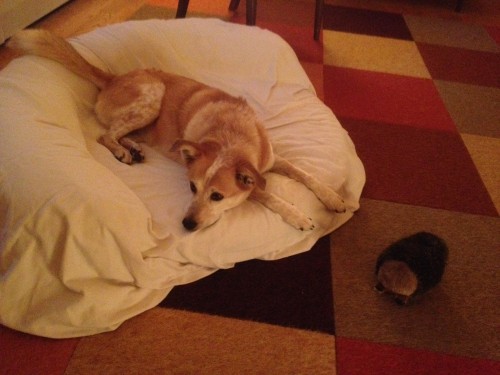 I then sewed the flowers to the bag and was very happy! But as you can see, I made one tiny mistake…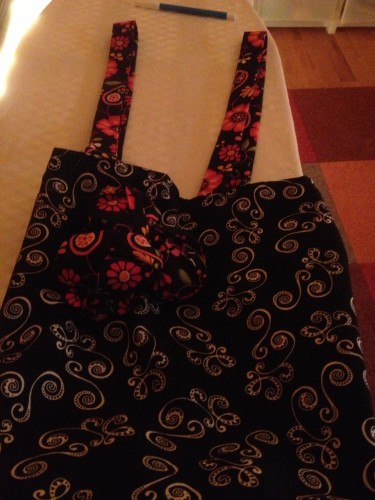 Oops!!! Fortunately it was easily fixed.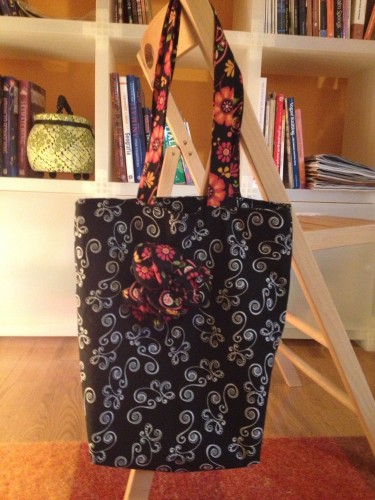 And here's a close up of the flowers. They turned out beautifully!